Our #SummerOfPurpose blog series follows this year's Cleveland Foundation Summer Interns as they spend 11 weeks working with Cleveland-area nonprofit and public sector organizations. In today's blog we hear from Meg Hopkins, who spent her summer working with the city of Broadview Heights where she organized, streamlined and helped to promote community events. 
Name: Meg Hopkins
College: The Ohio State University
Hometown: Westlake, OH
Internship Host Site: The City of Broadview Heights
What has been the most valuable aspect of your internship experience?
This summer has absolutely allowed me to step out of my comfort zone and challenge myself in a multitude of ways. Working for a nonprofit last summer, I was definitely stepping into uncharted territory when I made the switch to municipal government. The projects that I have been tasked with involve a lot of event planning and marketing, which are a bit different from my degrees in economics and public affairs. This new challenge, however, presented me with an opportunity to think outside the box and use the skills that I have honed in past experiences and apply them, while simultaneously developing new strengths. Additionally, I would not have been able to have these learning experiences if it were not for the dedicated public servants at the City of Broadview Heights. Their passion and desire to see their city prosper constantly motivated me and reinforced my interest in the work that I am doing.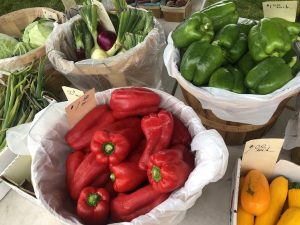 What has been the most challenging aspect of your internship experience?
The most challenging part is definitely balancing the projects that I'm working on. My summer has consisted of planning three different community concerts at the new amphitheater, coordinating the Broadview Heights Farmer's Market every Saturday, and managing the city's social media. I have also begun to plan two more events at the amphitheater for September. Each event and responsibility requires a lot of attention to detail and communication with everyone involved, so it has helped me learn to work with a lot on my plate. It can be tough sometimes, but I care about the city and what I am working on, so it kept the days exciting and constantly engaging!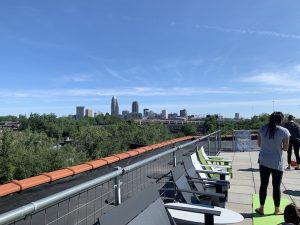 When you're not working, what do you enjoy doing around Cleveland?
I love coffee, so I spend a lot of my free time at Cleveland coffee shops working on homework or reading. A few of my favorites are Duck Rabbit in Ohio City, Gypsy Beans in Gordon Square, and Loop in Tremont. Summer in Cleveland is the best, so I try to spend as much time outside as possible – whether it be in the Metroparks, on Lake Erie, or exploring Cleveland neighborhoods. I enjoy doing yoga and actually had the opportunity to take a rooftop yoga class at the Tremont Athletic club a couple of weeks ago that was part of Engage Cleveland's Young Professionals Week, which I heard about through the Cleveland Foundation. I also love the Tribe, so I try to get to as many games as I can when I'm free!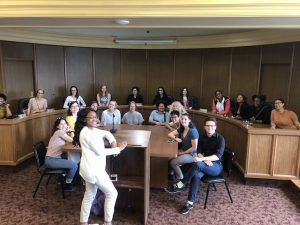 What are your career goals after college? 
I still don't know exactly what I want to do after school, which is why I am so grateful to have been a part of the summer internship program because it allowed me to not only experience my own site, but also be exposed to my cohort's sites and projects! I would potentially like to work for a nonprofit doing community development or for a community foundation. My work this summer and last has really strengthened my interest in community development, so I could see myself working for a CDC in Cleveland. 
How has this internship helped you grow professionally?
The professional development that I have received through this experience both at my site and through the foundation has been invaluable to me. Every day I am constantly communicating with business owners, city officials, residents, and the mayor. I have discovered how truly important it is to establish these relationships, value them, and maintain them throughout my career. This summer has allowed me to develop a diverse set of skills that I will be able to apply both in my classes and my future career. 
How has this internship helped you grow personally? 
This internship has helped me become more confident in myself and in my capabilities. Coming into this summer, I was struggling a lot with "imposter syndrome" because I was nervous that I would not be able to meet expectations at my site and did not deserve to be in the position. I quickly realized that I was wrong because I was surrounded with so much support and had the resources and knowledge that I needed to have a successful internship. This allowed me to take initiative with my projects and be more self-assured in what I was doing. The professional and personal growth that I have experienced this summer has equipped me with the confidence that I will be prepared to tackle any new challenge in my future. 
Where would you take a friend who is visiting Cleveland for the first time?
My roommate is from New Jersey, so I have had to plan quite a few of these days in order for her to get a good Cleveland experience! Nick's Diner on Lorain in Ohio City has been my go-to breakfast spot with my friends since high school. I always take people that have never been here to the Passenger's Café at the Cleveland Hostel which has a rooftop patio with a perfect view of the downtown skyline. Right across the street is the West Side Market and Mitchell's, so we would explore West 25th. From there, we would walk across the Lorain-Carnegie bridge and hopefully catch a 1:10 Tribe game. East 4th is always a neat spot and the Barrio patio in the summer is perfect. The East Bank of the Flats always has fun things going on, so I would probably take a visiting friend to Collision Bend and sit on the patio overlooking the river. I would finish out the day watching the sunset over the lake and that is pretty much a perfect Cleveland day!
What advice would you give to someone considering applying for the Cleveland Foundation Summer Internship program?
Do it! The application and interview process alone was awesome professional development and the actual internship program has been such an incredible experience. The Cleveland Foundation has been so supportive and the staff genuinely care about mentoring us as we develop throughout the summer. I am so grateful to have been selected for this program because of the amazing people I have gotten to meet and the exciting projects that I have been able to be a part of!