By Cameron Aloway, Cleveland Foundation Marketing & Communications Intern
Referred to as America's pastime, baseball is a quintessential sport that has brought community members together to cheer on their favorite teams. The sport gives many people the opportunity to participate and play with others. But for people who are blind or visually impaired, it can be challenging to find opportunities to play the game they love as members of a team.
The Cleveland Scrappers, a local baseball league, aims to combat this limitation. The Scrappers give visually impaired players a fair opportunity to play beep baseball, an adaptive version of the game that is competitive, challenging and centered on teamwork. In this blog, we sat down with Jeffrey Dell, the current Cleveland Scrappers coach and recent recipient of a Cleveland ESPY Award, to learn more about the league's mission and impact.
What is the mission of the Cleveland Scrappers?
Our mission is to provide a forum for persons with visual impairments to compete in sports. We want our players to work to the best of their ability when participating in team sports and accomplishing their goals. A lot of time people with disabilities can only participate in individual sports instead of competing on teams. Even though individual sports are great, I think part of the experience is missed. Not only do you work together to accomplish a similar goal, but you have to rely on others, and they rely on you. It's like a character-building exercise.
What is Beep Baseball?
Beep Baseball is played by people who are blind or visually impaired. Some players have sight; however, we put blindfolds on everyone to even out the playing field. When we play the game, we play with a 16-inch softball, which is larger than a standard-sized softball. The balls are modified with a sound module inside. When the game is played, players can hear where the ball is located. In Beep Baseball, the pitcher and batter work together as a team. Our batter, who is visually impaired, works with a sighted pitcher or catcher who helps our players with timing and adapting a consistent swing and rhythm.  Our pitchers try to have a high earned run average.  We also field a defense with six players and two sighted spotters that help out with positioning of the defense.  When the batter hits the ball, they run to one of two randomly activated bases.  If the batter gets to the base before the fielders have control of the ball, it is scored as a run.  Otherwise it is an out.
What was a significant moment that stood out to you as coach of the Cleveland Scrappers?
The moments that stand out to me are the opportunities when I'm working with my players. When we have players come out and get started learning this new sport, you see this lightbulb moment. You can see them thinking, "Hey I can do this!" or "I never thought I could play this sport again." It's more substantial getting people out and giving them that experience of playing in an actual game. You can see that they try their hardest to win.
The thing that I enjoy the most as a coach is pulling players aside and giving them that extra boost. Compared to where I started, if I was doing a lineup, I would be quick to pull someone if I thought they could fail. But failure is a part of that experience and enables growth. With the possibility of failure comes the overwhelming feeling when our players push through and succeed. Seeing our players get their first run, you just get this feeling of elation. Those moments stand out to me the most because you can see how you impacted them.
Recently, you and the Cleveland Scrappers won an ESPY for your initiative. Can you share your initial reaction?
It was kind of surreal. ESPN Cleveland was looking for nominees that went above and beyond to keep their players active during the pandemic. During that time, everything changed. The work our players put in was being canceled, and we knew that we couldn't just do nothing. So, we had to figure out new ways to keep practices going.
The swing trainers that we received with support from the Cleveland Foundation helped with this idea. Swing trainers are sticks placed on a pedestal that has a ball on the end. When you hit it, the ball can swing back and forth giving easier means to practice your batting at home. During 2020 we had our players set up the swing trainers and connected them with batting coaches to continue practice and workouts remotely via Zoom. It was a safe way to keep our players active and engaged until we came back.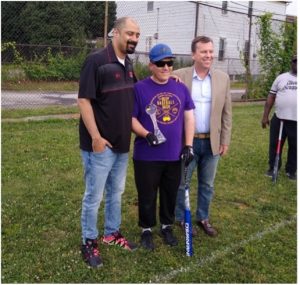 When Kevin Barrett, one of the co-founders of the league, heard about the nominations, he immediately submitted my name. I had no idea he did that. At the time, my wife and I were on vacation visiting wineries in upstate New York. When we got back, I got a text from Kevin saying, "Hey, can your wife come down to the practice field? ESPN is coming." I couldn't come that day, but I figured we would get great PR. It wasn't until then Kevin admitted to me randomly that he nominated me. It's nice to be considered for something like that. It's nice to see the people that you're working with think enough of you to nominate you, whether you get it or not. I was at a loss for words. Even though this was a personal award, it was given to our team. Because of what we did together.
What were some challenges you've faced as a coach?
As a coach, I've experienced two big challenges. For one, resources. We applied for grants with different organizations, and occasionally we received money, but we still have to do a lot of fundraising. All of our games are on the road. Sometimes we've been able to do weekend tournaments in Cleveland, but there's a lot of money that's spent on tournaments. Either because we're bringing people in to play or we're traveling to other tournaments. Typically, every year, the World Series rotates between different cities around the country. We also attend annual regional tournaments in Indianapolis and Chicago. We often don't go to our league's World Series because expenses can be around $10,000 compared to regional tournaments, which are around $2,000 to $2,500 for hotels and transportation. Aside from fundraisers, we pay for a lot out-of-pocket. Many of our players have difficulty contributing due to underemployment. We rely a lot on support to fund our players and volunteers.
Another challenge we had is getting people out. Usually when I tell people about beep baseball, they think it's really cool, but they still doubt whether they would be good at it. However, when we get people out, they immediately fall in love with it. But this challenge can be a lot deeper because of transportation. When they have no secure way of getting to our field, it can be an intimidating commitment.
How has the Cleveland Foundation helped impact the league and your initiative?
A few years back, before we received help from the foundation, we were actually in contact with the City of Cleveland about potential field improvements. When we got in contact with the City of Cleveland, we were able to talk through some ideas about what we needed for our practice field and it gave us a great starting point in revitalizing our field. During that process, one of the planning coordinators was able to get us in touch with the Cleveland Foundation for additional support. The foundation was definitely the icing on the cake in terms of support. The money will help us update equipment and our facilities to make our efforts playing long-term more sustainable. We have been able to afford equipment like more bats and modified baseballs, which can be $35 each. Also, we'll be able to outfit a storage space that will be located right outside of our field for easy access.
What are your goals for the Cleveland Scrappers?
To keep improving as a team. Also, gaining assets like equipment and field improvements so we no longer have to rely on volunteers to set up the field every practice. When our field storage and underground base wiring is finally finished, it's going to save us an hour's worth of time each practice for setup and teardown. It gives us more time to dedicate our efforts toward practicing and improving as a team.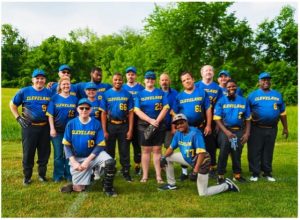 With these improvements, we can work on providing extra transportation for players since we will have both the time and vehicle space. It will also help rededicate our resources into giving our players more experience on the field. One of the things I'm excited about working on this offseason is an adaptive form of kickball that's played with children. We're looking at starting a program for visually impaired children next summer. We want to invite children and their parents from the community to try out beep kickball during weekend practices and events.
It serves multiple purposes like giving children access to recreational activities that can be physically demanding. They'll also be able to participate safely while getting needed exercise. Ultimately, it will give them the experience of competing in team sports which is challenging to find because of sparce availability of team sports for the blind. When I was younger, because of my visual impairment,  the selection of sports to compete in was limited. I had to compete in sports like track and wrestling. Yes, you're somewhat involved in a team, however, it's still an individualized sport. Having options like beep kickball or baseball will provide that team experience that visually impaired players often miss out on.
Is there any advice you would like to share?
The one catchline I always throw out there is "Just because you have a disability, doesn't mean the game is over. You just have to find a new way to play it." That's something I've always experienced and gotten out of personally, and something we try to impart on others. Just because you have a vision impairment, doesn't mean that there aren't ways for you to do the things that you need or want to do. We want to change the perception that people with visual impairments have of their own experience. We want to show them that, where there's a will, there's a way. There's always a way to take the abilities that you do have and use them to their maximum potential. You can apply them to different situations through creativity and find a way to do just about anything.
Stay updated and learn more about the Cleveland Scrappers via Facebook or reach them directly via email at clevelandscrappers@outlook.com.