Our #SummerOfPurpose blog series follows this year's Cleveland Foundation Summer Interns as they reflect on 11 weeks spent working with Cleveland-area nonprofit and public sector organizations. In today's blog, we hear from Sam Yusko, who spent his summer at Geauga County Public Library, where he assisted with their community outreach efforts and helped organize events such as book sales.
Name: Sam Yusko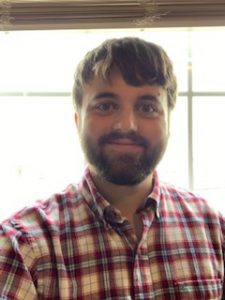 College: University of Toledo
Hometown: Shaker Heights, Ohio
Internship Host Site: Geauga County Public Library 
What has been the most valuable part of your internship experience?
The most valuable part of the experience for me has been the exposure to Cleveland's extensive nonprofit sector. It is a part of the city that I had no idea existed and one I am interested in working in after graduation.
What has been the most challenging part of your internship experience?
The most challenging thing for me has been learning to work in an office environment. Until now, my only work experience is as a camp counselor, where work takes place in a massive open area and responsibilities change every day. It was a strange experience to sit behind a desk and work on a computer.
When you're not working, what do you enjoy doing around Cleveland?
My friends and I like to explore the city and hunt down as much free stuff as we can. Parks, museums, exhibits, anything that does not have a price tag on it attracts us. In particular, I am a fan of the cultural gardens.
What are your career goals after college?
At the moment, just getting a job. I am still getting used to the freedom that an English major offers as opposed to an engineering degree, so I am looking at multiple options. I am currently considering law school, but I might also be interested in working at a publishing company.
How has this internship helped you grow professionally?
As mentioned above, this is my first job unrelated to a summer camp. The chance to work in an office environment helped me learn a new way to work.
How has this internship helped you grow personally?
I liked getting to know my fellow interns over the summer. They are a fun group, and I enjoyed all of the professional development days when we got together. I hope to stay in touch with them once the summer is over.
What's your favorite public space in Cleveland?
My favorite public space is the cultural gardens. It is a feature you don't see in many other cities, and I'm glad that we have one here. I think that the best garden is the Irish one, although I do have bias as I am part Irish.
Where would you take a friend who is visiting Cleveland for the first time?
I would take them to the art museum. It fits my main criteria of being free, and I can also pretend to have an ounce of culture. I may not know anything about art, but I know enough to fake an appreciation for it enough to fool my friends.
What advice would you give to someone considering applying for the Cleveland Foundation Summer Internship Program?
Make the most of your networking opportunities. You will meet a lot of people in a very short period of time. Even if you never talk to any of them again, it is a great chance to practice selling yourself and learn about opportunities around Cleveland.
To learn more about the Cleveland Foundation Summer Internship Program, click here.