An immersive experience for future leaders presented by the Cleveland Foundation Center for Philanthropy
Foundations for Philanthropy is an interactive cohort experience designed to launch emerging leaders into lifelong charitable giving. Supporting a pipeline of diverse, rising philanthropists, the program shares the critical skills and strategies necessary to leverage time, talent and treasure into meaningful impact for Greater Cleveland, the nation and the world.
Participant involvement
Foundations for Philanthropy seeks to educate emerging professionals on the most effective ways to create meaningful community change through exposure to the nonprofit sector. Participants learn about the history of philanthropy in Cleveland, meet with community leaders and actively partake in the philanthropic process – from exploring values to evaluating nonprofit organizations and making funding decisions.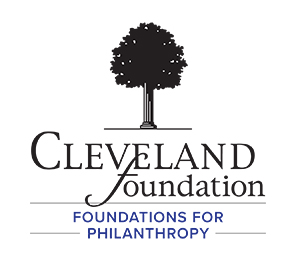 Program structure
Each selected cohort meets consistently over several months through interactive workshops to explore community needs and learn about philanthropic approaches to address various issues affecting the community. Experienced Cleveland Foundation staff facilitate the workshops, which include presentations from community partners and site visits. Together, the cohort chooses a focus area for deeper understanding and learns how to research and analyze relevant nonprofit organizations. After a thorough analysis, participants make grant recommendations to support one or more organizations.
Lifelong benefits
Foundations for Philanthropy provides participants with a host of benefits beyond the initial hands-on experience of grantmaking. By networking with community leaders, participant voices are amplified as they seek to expand their impact in the nonprofit sector. Additionally, strong bonds are formed among members of the cohort through shared philanthropic leadership goals. Foundations for Philanthropy is an experience that participants will take with them as they become engaged philanthropists and civic leaders driving positive change in the community for years to come.
F
oundations for Philanthropy 2020 Cohort
Bishara Addison, Senior Manager, Policy & Strategic Initiatives, Towards Employment
Nolan Beck Rivera, Creative Director, The Materialist
Erin Connor Reif, Executive Director, Connor Foundation
Adrienne Fischer, Executive Assistant, Ernst & Young
Diana Gomez Shipman, Vice President, Banking Advisor, PNC Wealth Management
Andrew Grover, Manager, MRO & Outbound Sales, Famous Enterprises
John Honkala, Plant Technical Services Representative, Sherwin-Williams
Nichelle McCall Browne, Founder & CEO, Bold Startups
Zhenting Men, Vice President, Cleveland International Fund
Amanda Petrak, Corporate Responsibility & Community Relations Strategist, KeyBank
Tracy Petrakis, Community Engagement Manager, Hyland Software
Ruthrachel Przybojewski, Gas Operations Supervisor, Field Metering Services, Dominion Energy
Larese Purnell, Managing Partner, CLE Consulting Firm
Alex Rupert, Financial Planner, Sequoia Financial Group
Eliana Turan, Development Director, LGBT Community Center
This program is led by the Advancement Department under the direction of Philanthropy Officer Kristen Grabenstein.