An immersive experience for future leaders presented by the Cleveland Foundation Center for Philanthropy
Foundations for Philanthropy is an interactive cohort experience designed to launch emerging leaders into lifelong charitable giving. Supporting a pipeline of diverse, rising philanthropists, the program shares the critical skills and strategies necessary to leverage time, talent and treasure into meaningful impact for Greater Cleveland, the nation and the world.
Participant involvement
Foundations for Philanthropy seeks to educate emerging professionals on the most effective ways to create meaningful community change through exposure to the nonprofit sector. Participants learn about the history of philanthropy in Cleveland, meet with community leaders and actively partake in the philanthropic process – from exploring values to evaluating nonprofit organizations and making funding decisions.
"After participating in Foundations for Philanthropy, my approach to philanthropy going forward will be more objective and compassionate. I have learned how to evaluate and understand the opportunities and challenges in our community so I can assess an organization's goals and impact."
– Foundations for Philanthropy Participant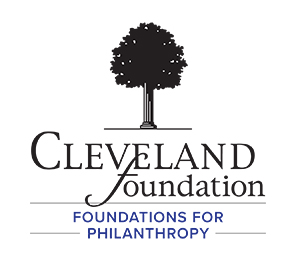 Program structure
Each selected cohort meets consistently over several months through interactive workshops to explore community needs and learn about philanthropic approaches to address various issues affecting the community. Experienced Cleveland Foundation staff facilitate the workshops, which include presentations from community partners and site visits. Together, the cohort chooses a focus area for deeper understanding and learns how to research and analyze relevant nonprofit organizations. After a thorough analysis, participants make grant recommendations to support one or more organizations.
Lifelong benefits
Foundations for Philanthropy provides participants with a host of benefits beyond the initial hands-on experience of grantmaking. By networking with community leaders, participant voices are amplified as they seek to expand their impact in the nonprofit sector. Additionally, strong bonds are formed among members of the cohort through shared philanthropic leadership goals. Foundations for Philanthropy is an experience that participants will take with them as they become engaged philanthropists and civic leaders driving positive change in the community for years to come.
"I would recommend Foundations for Philanthropy because it really opens your eyes to issues in your community and how you can be an agent for change. It's a great way to learn about giving and network with other young professionals."  
– Foundations for Philanthropy Participant

F
oundations for Philanthropy 2022 Cohort
Lauretta Y. Amanour, Executive Assistant to the President & CEO, Northern Ohio Recovery Association
Alana Bandos, Education Director, Anti-Defamation League
Kate Bennett, Crisis Intervention Specialist, FrontLine Service, and Psychotherapist, KTB Counseling, LLC
David Davis II, President, Shadowbox Media Co.
Jack FitzGerald, Project Manager, Gradient, a Human Equity Think Tank
Juan Carlos Gamarra, Project Controls Analyst, NV5
Spencer Krebs, Associate Attorney, Cavitch, Familo, & Durkin
Holly Little, Attorney
Tory Mateo, Full-time Parent
Pete Mazzeo, Senior Manager, Apple
Leta Obertacz, Director of Advancement, Cleveland Zoological Society
Maria Paparella, Founder and Executive Director, Chair-ity
Allison Peltz, VP, Social & Content Marketing, KeyBank
Jordan Rodriguez, Certified Financial Planner, Wernick Spear Wealth Managers
Jeff Ryder, Associate Managing Director, Cleveland Play House
Supriya Tamang, Global Research Associate, Global Cleveland
Brendan Trewella, Founder & President, Small Organization Solutions
Kim Walrod, Vice President & Senior Relationship Strategist, PNC Wealth Management
Le'Priya White, Program Manager, Plexus LGBT and Allied Chamber of Commerce
McKinley Wiley, Photographer & Founder, The Dark Room Co.
Dameyonna Willis, Founder, Queen I Am
This program is led by the Advancement Department under the direction of Philanthropy Officer Kristen Grabenstein.