An immersive experience for future leaders presented by the Cleveland Foundation Center for Philanthropy
Foundations for Philanthropy is an interactive cohort experience designed to launch emerging leaders into lifelong charitable giving. Supporting a pipeline of diverse, rising philanthropists, the program shares the critical skills and strategies necessary to leverage time, talent and treasure into meaningful impact for Greater Cleveland, the nation and the world.
Participant involvement
Foundations for Philanthropy seeks to educate emerging professionals on the most effective ways to create meaningful community change through exposure to the nonprofit sector. Participants learn about the history of philanthropy in Cleveland, meet with community leaders and actively partake in the philanthropic process – from exploring values to evaluating nonprofit organizations and making funding decisions.
"After participating in Foundations for Philanthropy, my approach to philanthropy going forward will be more objective and compassionate. I have learned how to evaluate and understand the opportunities and challenges in our community so I can assess an organization's goals and impact."
– Foundations for Philanthropy Participant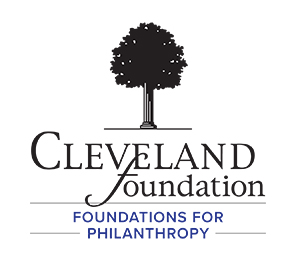 Program structure
Each selected cohort meets consistently over several months through interactive workshops to explore community needs and learn about philanthropic approaches to address various issues affecting the community. Experienced Cleveland Foundation staff facilitate the workshops, which include presentations from community partners and site visits. Together, the cohort chooses a focus area for deeper understanding and learns how to research and analyze relevant nonprofit organizations. After a thorough analysis, participants make grant recommendations to support one or more organizations.
Key Dates
Application Period: Aug. 1 – Sept. 29, 2023
Participants Notified: Early October 2023
Cohort Begins: January 2024
Cohort Ends: June 2024
How to apply
To apply, please use our portal to submit the following:
Contact information, including name, address, email, phone number, and preferred pronouns and professional title
Current resume
Brief bio
Headshot photo
Brief video of yourself answering the question: If you had $1,000 to give to any nonprofit in Cleveland, which would you choose and why?
Apply via the Cleveland Foundation portal under the scholarships/internships/fellowships category. 
Want to learn more? 
Two information sessions will be held in August in the Sally and Bob Gries Center for Philanthropy at the Cleveland Foundation Headquarters, 6601 Euclid Avenue: 
Aug. 2: 5-6 p.m.
Aug. 23: 11:30 a.m. – 12:30 p.m.
If you have any questions, please contact Kristen Grabenstein, Philanthropy Officer, at kgrabenstein@clevefdn.org.
Frequently Asked Questions
Expand All
What is Foundations for Philanthropy?

Foundations for Philanthropy is an interactive cohort experience presented by the Cleveland Foundation that is designed to launch individuals into lifelong philanthropy by teaching the skills and strategies to leverage time, talent and treasure into meaningful impact for our region. The 2023 cohort of the program will meet for six monthly day-long sessions beginning in January 2023.  The program is planned to take place in-person but may move to a virtual or hybrid format if needed.

Want to learn more? 

Two information sessions will be held in August in the Sally and Bob Gries Center for Philanthropy at the Cleveland Foundation Headquarters, 6601 Euclid Avenue: 

Aug. 2: 5-6 p.m.

Aug. 23: 11:30 a.m. - 12:30 p.m.

What to Expect

As a participant in Foundations for Philanthropy, you will have the opportunity to participate in a program that explores philanthropic approaches to problem solving. With approximately 20 community-minded peers, you will engage in six full-day interactive workshops led by experienced Cleveland Foundation staff. Together, the cohort will explore community issues, choose an area of focus and provide grant support to impactful nonprofit organizations at the conclusion of the program.

2023 workshop dates:

Jan. 12
Feb. 16
March 16
April 20
May 11
June 8

Who Should Participate?

Leaders ages 25-40ish who are interested in learning more about philanthropy, grantmaking and local nonprofits.

Applicants must not be a relative of a member of Cleveland Foundation staff or Board of Directors.

What Topics Will We Discuss?

How philanthropy addresses key community issues in Northeast Ohio
Ways to identify and address root causes
How to source and evaluate effective programs
Exploring your own mission, vision and values related to philanthropy

What Are My Commitments During the Program?

Ability to attend six full-day in-person sessions once a month from January through June in at various locations around Cleveland
Willingness to remain engaged and participate throughout the duration of the program
A financial contribution of $250 (tax deductible). Participant contributions will be granted out to nonprofits as part of the program.*
Matching funds from your employer, if applicable




*Participants in Foundations for Philanthropy are asked to make a tax-deductible contribution of $250, which will be pooled and granted out at the end of the program. However, the ability to make this financial contribution is not a requirement of the program, and scholarships are available. Contact kgrabenstein@clevefdn.org if you would like to be considered for a scholarship.
Lifelong benefits
Foundations for Philanthropy provides participants with a host of benefits beyond the initial hands-on experience of grantmaking. By networking with community leaders, participant voices are amplified as they seek to expand their impact in the nonprofit sector. Additionally, strong bonds are formed among members of the cohort through shared philanthropic leadership goals. Foundations for Philanthropy is an experience that participants will take with them as they become engaged philanthropists and civic leaders driving positive change in the community for years to come.
"I would recommend Foundations for Philanthropy because it really opens your eyes to issues in your community and how you can be an agent for change. It's a great way to learn about giving and network with other young professionals."  
– Foundations for Philanthropy Participant

F
oundations for Philanthropy 2023 Cohort
Ann Barnett – Sanky Communications
Romona Brazile – MetroHealth System
Ryan Clopton-Zymler – Sage & Maven, LLC
Nichole Collins – FundTaskIt LLC
Liz Conway – Tri-C Foundation
Jared Daly – Cuyahoga County Board of Developmental Disabilities
Heather Englander – Business Volunteers Unlimited
Rachel Horvath – KeyBank
Dean Jackson – Carnegie Endowment for International Peace
Stephanie Kesselem – Cleveland Zoological Society
Aubrey Rose Knight – Black It Up
Alyson Kruse – Cleveland Clinic
Brian Kruse – Legacy Roofing Services LLC
Bryan Lacey – Cision
Natalie Lonjak – CrossCountry Mortgage
William Marion – Consultant
Amy Moniot – Cleveland Council on World Affairs
Demari Muff – Cavitch Familo & Durkin
Tara Nichols – University Hospitals
Francine Price – PNC Private Bank
Meltrice Sharp – CLE Consulting Firm
Veronica Thornton – Consultant
Molly Vaughan – Motogo
Ashley Wasielewski – Bank of America
This program is led by the Advancement Department under the direction of Philanthropy Officer Kristen Grabenstein.