As we reflect on the past twelve months, the moments that stand out to us are defined by the people and organizations in Greater Cleveland working to make our community better. We've been lucky to partner with many of them in 2018. Here are some highlights: 
Cleveland's Path to Say Yes 
Over the past 18 months, our community has united in an effort to bring Say Yes to Education to Cleveland. Check out this short video to learn what Say Yes could mean for our city:
We hope to find out soon whether Cleveland will become the next Say Yes chapter! The Cleveland Foundation is among the convening partners of Cleveland's Path to Say Yes – learn more about our efforts, and how you can get involved, here. 
Investing in Arts Mastery 
Greater Cleveland is a community rich with arts and cultural resources – but for many, these resources have been out of reach. In recent years, we've partnered with some of the top arts organizations in Cleveland to invest in high-quality mastery arts opportunities for local youth. Our shared goal? To ensure every student in the city can access transformative arts and cultural opportunities in their own neighborhoods. Lillian Kuri, our Vice President, Strategic Grantmaking, Arts & Urban Design Initiatives, wrote a story about this work for Washington Monthly. Read it here. 
Bridging the Digital Divide
Earlier this year, we announced $488,000 in grants to give more people in Cuyahoga County access to technology as part of our Digital Excellence Initiative. These grants support free Wi-Fi hot spot lending at local public libraries and access to low-cost computers and tech support through PCs for People. Learn more here:
We also introduced Ctrl+Alt+CLE, an effort to help individuals and organizations address community needs through the use of data and technology. Ctrl+Alt+CLE offers special events, access to the co-working space at the Digital C MidTown Tech Hive, hands-on data and skills training, and challenge grants. Anyone with an interest in data, technology and community issues is invited to be part of Ctrl+Alt+CLE! Learn more here. 
2018 African-American Philanthropy Summit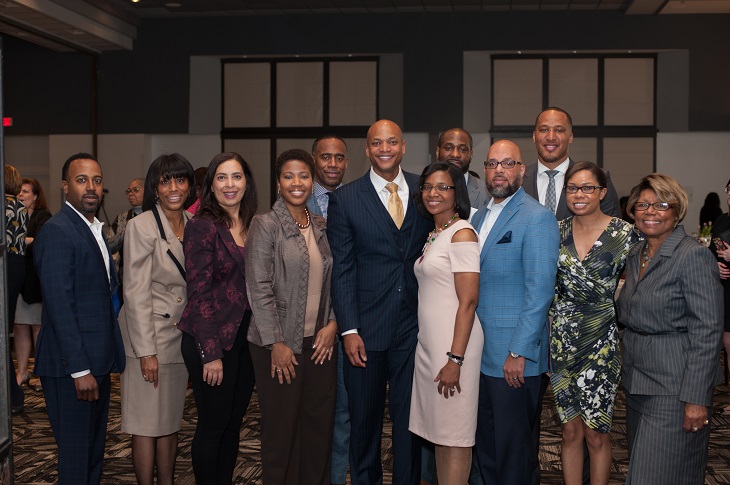 On April 28, the African-American Philanthropy Committee of the Cleveland Foundation hosted the fifth biennial Cleveland Foundation African-American Philanthropy Summit. The summit celebrates African-American philanthropists in our region and provides tools and insight to support and inspire those interested in charitable giving. The theme of this year's summit was "CLE for Life, Giving for Life," and the keynote speaker was Wes Moore, CEO of the Robin Hood Foundation in New York City and an acclaimed author and a social entrepreneur. Learn more about the AAPC and the summit here, and see what people were saying about this year's summit on Twitter here. 
2018 Annual Meeting presented by KeyBank: A Sense of Place 
On May 1, more than 1,000 people joined us as at Playhouse Square to celebrate the Cleveland Foundation's 104 years of community impact. The theme of our 2018 Annual Meeting was "A Sense of Place," with a program focused on the links between the places and people that make our community great. In case you missed it, here are a few highlights:
Common Ground: A Day of Community Conversation 
On June 24, nearly 4,000 residents came together at 104 locations across five Northeast Ohio counties to share meals and conversations about our shared sense of place. Common Ground conversations were hosted by local residents and organizations, and each gathering was unique. Get a glimpse of the wide array of events in this short highlight video:
And learn what Common Ground 2018 participants shared about their experiences in this summary of our post-event survey. Save the date: Common Ground returns Sunday, June 30, 2019. In January, we'll be opening registration for those interested in hosting a conversation – stay tuned! 
Celebrating Women of Note 
Each year, we look forward to celebrating outstanding leaders in our community with the Crain's Cleveland Business Women of Note Awards. We were proud to return for the fourth consecutive year as presenting sponsor of the awards. Meet the 2018 honorees, including legendary broadcast journalist and Cleveland Foundation Women of Note Legacy Award Winner Dee Perry, here. 
Cleveland Metroparks & Cleveland Foundation Centennial Trail 5K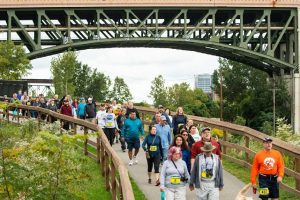 On Sept. 22, hundreds of people joined us for the inaugural Cleveland Metroparks & Cleveland Foundation Centennial Trail 5K. 536 registrants raised $10,670 for the Emerald Necklace Endowment Fund of the Cleveland Foundation, supporting the preservation and protection of the Cleveland Metroparks! You can learn more about the Emerald Necklace Endowment Fund and make an online gift anytime here. 
83rd Annual Anisfield-Wolf Book Awards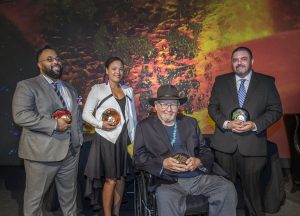 The only national juried prize for literature that confronts racism and examines diversity, the Anisfield-Wolf Book Awards is a highlight of our calendar every year – and 2018 was no exception. This year's winners include: 
We celebrated these esteemed writers at the Sept. 27 awards ceremony at KeyBank State Theatre in Playhouse Square. Stay tuned as we announce the next class of Anisfield-Wolf winners in the new year!
Cleveland Book Week & INTER|URBAN
In the week surrounding the Anisfield-Wolf Book Awards ceremony, Cleveland Book Week (CBW) returned for its third year. From Sept. 21-29, we partnered with local organizations to host a series of literary and literacy-themed community events, most of which were free to attend. See the full event line-up here. 
As part of Cleveland Book Week 2018, Phase II of the INTER|URBAN arts & culture connector debuted! The Greater Cleveland Regional Transit Authority and LAND studio unveiled 25 Red Line cars featuring on-board works of art that respond to five authors from the Anisfield-Wolf canon. We've been proud to support INTER|URBAN since the launch of Phase I in 2016, which spurred the creation of Anisfield-Wolf-themed murals along the Red Line, which connects downtown Cleveland with Hopkins International Airport to the west, and University Circle to the east. Learn more in this video about the project: 
These are just a few of our highlights from 2018. We hope 2019 brings more great gatherings, new opportunities and impactful projects for Greater Cleveland!